London: A World Class Beer City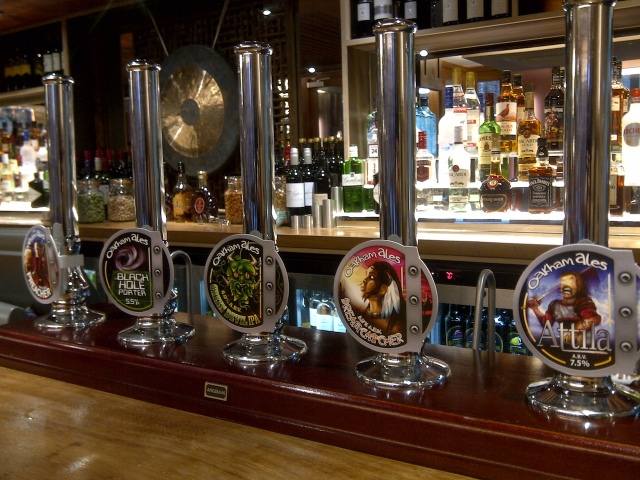 Any discussion of the world's great beer cities in the '80s, '90s or noughties would most definitely not have involved London. Bamberg, San Diego, Portland (Oregon), Sheffield, Antwerp, Bruges: all were miles ahead of London: until very recently London didn't even come close.

But over the last 3 - 5 years, incredible things have been happening in our capital city. Once a city with a fine beer tradition, London has once again become a very beery city, one now easily able to compete with those other world class contenders.

Back in the day, finding good beer in London was easy: you went to the White Horse on Parson's Green, the Market Porter in Borough Market or the nearby Royal Oak. Oh, those three and the Wenlock Arms - the good old, tatty but comfortable Wenlock, where you were sure to find a good pint and a decent range of ales. With the exception of the White Horse, all of these fine old boozers were notable for their good range of well kept cask ales. We were thankful for what we had. For something more exotic - a range of bottled Belgians, say, or the occasional American or Belgian beer on keg, it was the White Horse or nothing. Their legendary Old Ale Festival every November was pretty much as good as it got beer-wise in London, along of course with the Great British Beer Festival and a handful of other CAMRA stalwarts such as London Drinker and Battersea Beer Festivals. All solid, good and worthy. But a world away from what we have now.
'Meet the Brewer' events, tap takeovers, beer dinners, brewery taps, craft beer bars showcasing quality cask, keg and bottled beers, and beers from exciting, new wave London breweries - these were all the stuff of dreams. Never in a million years did I expect things to have changed so completely by 2014.

So, what's happened? Many credit the opening of the Rake in 2006 with kick starting the new wave of bars and pubs, but good and innovative as the Rake might be, for me the real game changers came a little later on.

On the pub front, Cask Pub and Kitchen opened late in 2009. Showcasing a range of 10 immaculately kept cask ales, their innovation was to also sell a range of increasingly excellent high quality keg beers - often from American, Danish or Belgian breweries, but more recently featuring superb keg beers from newer London and UK brewers. They also started with a range of several hundred high quality bottled beers from around the world, setting a new standard for bottled beer lists in London.

On the brewery side, Kernel Brewery also opened in 2009. This was a hugely significant moment in London's beer renaissance. Many articles have written about Kernel's Evin O'Riordan finding inspiration in the hoppier beers he found when visiting the US. For those of us who enjoy beer travel, no longer do we have to travel to find the sort of beers we used to seek out in New York or on the West Coast. They are now brewed with skill and passion right here in Bermondsey, SE1, to well justified critical acclaim.

The success of Cask and Kernel inspired many others to open new pubs and breweries. London now has over 60 breweries (and counting) - a dramatic rise from the low point of just 6 breweries in 2007. My London beer guide - which used to consist of basically one page of A4 with half a dozen entries - now stretches to 22 pages. Most of the places I now list have opened since 2009. Thanks to my good friend from LA @fredwaltman, the guide is now on line.
Following the immediate success of ventures such as Cask Pub and Kitchen, new wave bars and pubs such as Euston Tap (2010), Brewdog Camden (2011) and the Cask's sister pubs Craft Beer Co (now 4 branches, in Clerkenwell (2011), Brixton and Angel (both 2012), Clapham (2013) as well as a Brighton outpost), have completely changed the landscape of drinking in London. Never before have we had pubs offering so many draft beers, but the new Brewdog bar in Shepherd's Bush (opened late 2013) raises the bar even further with a choice of 40 often superb draft beers. A common theme of most of the new pubs and bars is the mix of a strong cask ale line up along with a range of innovative and exciting quality keg beers. Many also offer a bottled beer list from home and overseas. A great example of this is the Flying Pig in East Dulwich (opened August 2013), which offers 12 keg lines, 6 casks and well over 100 bottles. Oh, all this and some great BBQ food.
New breweries pop up every week (or so it seems): along with Kernel the pick of the new breweries include West London's innovative Weird Beard Brew Co; Partizan and Brew by Numbers (both walkable from Kernel and open for a marvellous Bermondsey brewery tap crawl on Saturdays along with newcomers Fourpure); Beavertown in Hackney Wick - check out the amazing meaty BBQ menu at their Duke's Brew & Que in Haggerston - and Rocky Head in Earlsfield, whose Pale Ale is sublime.Redchurch in Bethnal Green and Howling Hops (under the Cock Tavern in Hackney) are two other stand outs, but many of the others are also brewing extremely good beer and I am confident most will not only survive but thrive.
So with new pubs and breweries opening every week, London's beer scene hasn't been so healthy in decades. With new festivals such as August 2013's London Craft Beer festival, things are set to go from strength to strength.
London a world class beer city? In 2014, the answer is an emphatic YES!
An original version of this article was originally published by Chelmsford and Mid-Essex CAMRA's 'Thirsty Times' - Autumn 2013