The Bermondsey Beer Mile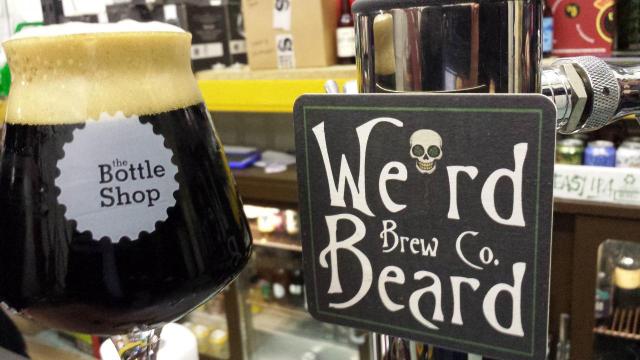 Things change quickly in London's beer scene and Bermondsey is no exception. Since our last update of this article Kernel Brewery's tap room has now closed permanently (there is still a bottle shop at the brewery on Saturdays - 9am to 2pm - for take away beer only) and the rather good Eebria Tap Room has opened, almost next door to Partizan.
The only day you can visit all venues is Saturday, but check the opening hours carefully before you visit as they change frequently. Indeed some of the venues are experimenting with Friday evening and Sunday opening. This suggested route starts at Fourpure Brewing Co near South Bermondsey station.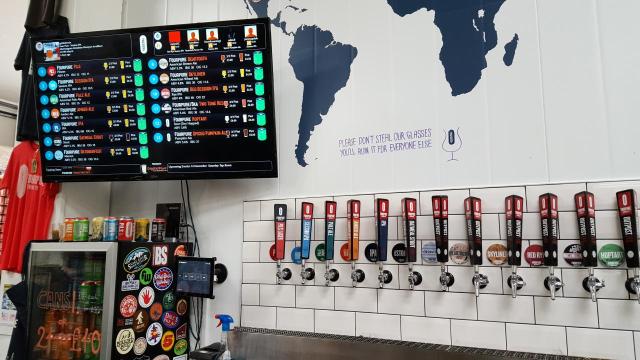 Fourpure taproom
Fourpure is right next to South Bermondsey station, but quite well hidden. From the station, go onto Rotherhithe New Road and turn right. Take a right into the industrial estate at its main entrance and follow the road round to the left inside the estate, under the railway. You'll eventually see Fourpure ahead of you at No 22. Fourpure are brewing some consistently excellent beer - their IPA is particularly recommended. The range at the tap room has once again expanded - 13 drafts were available on our most recent visit. Food is usually available from a street food vendor outside.
From Fourpure return to the main road and turn right, going under the railway bridge. Take the first left into Raymouth Road. As soon as you have passed Nelldale Road on the right, you'll see a cut through on your left which goes back under the railway and takes you to the bottom of Almond Road. Turn right into Almond Road with the railway on your right, and about 100m along you'll find Eebria Tap Room.
Serving 6 drafts and about 50 bottles, this is a very high quality selection indeed and a welcome addition to this part of South Bermondsey.
Partizan Brewing is based at No 8 Almond Road, about 15 seconds' walk from Eebria. There isn't much space here so you may have to stand, but Partizan's beers continue to be exceptionally good so it's an essential stop on the crawl.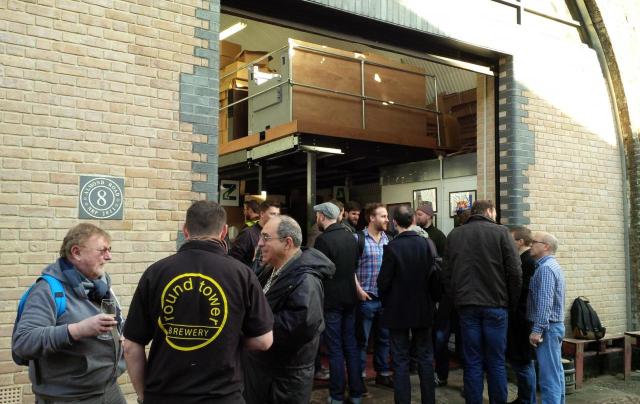 Partizan Brewing
If you want to call into Kernel Brewery to buy some beers to take home, take a left onto Southwark Park Road at the top of Almond Road, staying on the same side of the railway. Take the second right into Blue Anchor Lane and follow it until you get to the main road (St James's Road) which you need to cross over. Keeping the railway to your right go down Lucey Road, tucked in between a housing estate (on the left) and the railway (on your right). At the end you will come out more or less right in front of Kernel - in total between 5 and 10 minutes' walk from Partizan.
Kernel is the original Bermondsey brewery and what many consider to be one of the best in the country. Kernel beer is best tasted fresh, and you won't find it fresher anywhere else than by buying it at the brewery shop.
Stop number 5 is Brew By Numbers.

Distinctive branding at Brew By Numbers
Turn right out of Kernel and keep hugging the railway to your right. When you hit Spa Road, go left and immediately right onto Enid Street, and you'll find Brew By Numbers at Arch 79 on the right - just two minutes from Kernel. Now expanding - and with backing from BrewDog - Brew by Numbers is another superb brewery offering a great range of beer every Saturday.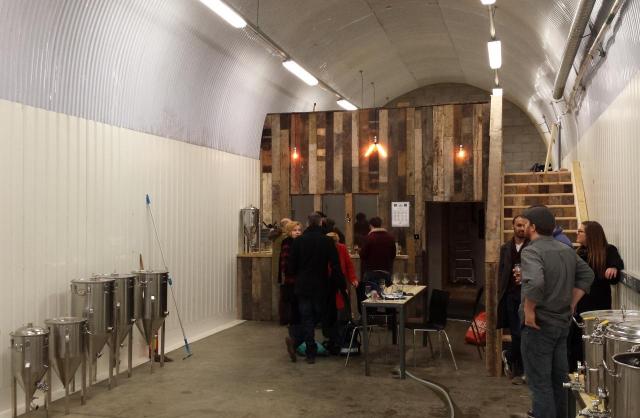 Taproom at U Brew
From Brew By Numbers, turn right out of the brewery and again keep the railway on your right. Turn right and go under the railway when you hit Abbey Street. Take the first right, Old Jamaica Road, and the next stop - U Brew - can be found on your right at Arches 29- 30, No 24 Old Jamaica Road. This is London's first 'open brewery', where members can brew their own beer. The tap room aims to offer around 8 - 10 draft beers each week, plus a very good range of bottled beers from Ales by Mail.
Return to Abbey Street and turn left, back towards the railway line. Cross the road and go down Druid Street, which hugs the railway line and is home to the last three stops on the crawl. Firstly, Bottle Shop. As the name suggests, here you can buy bottles to take home. You can also drink on site, and there is a sizeable seating area on the mezzanine level. You can choose from any of the 200+ bottles and drink them here - or choose one of the ever changing drafts. With regular tap takeovers and 'meet the brewer' events with some of the country's best breweries and an outstanding selection of bottles, you are sure to find something of interest here.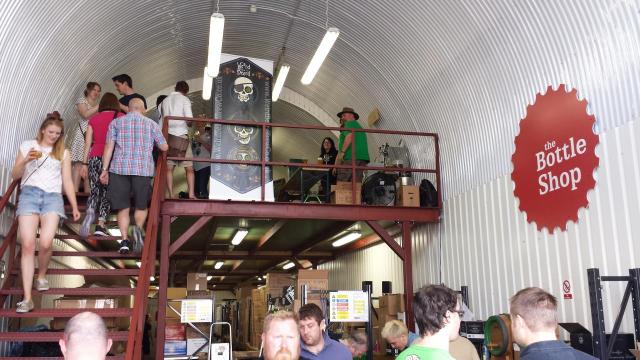 Bottle Shop's arch with mezzanine
Anspach & Hobday is just 5 doors away at No 118 Druid Street. This busy tap room offers a good range of innovative beers from these prolific and increasingly accomplished brewers.
Turning left out of Anspach & Hobday you'll find the final stop about 300m further down Druid Street. Uniquely in Bermondsey, Southwark Brewing Co focuses mainly on cask beer, so the brewery tap provides a welcome alternative with some solid beers already being produced.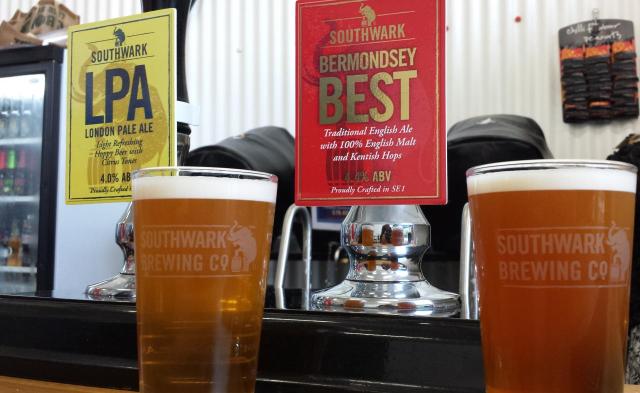 Southwark Brewing Co's cask ales
From Southwark Brewing Co it's a 10 minute walk back to London Bridge or a slightly shorter distance to Bermondsey station on the Jubilee line.
The Bermondsey Beer Mile is now so full of great beer venues it's getting tough to do it all in one day, but it provides an excellent day out and is now an essential part of London's beer scene.
Full addresses (check our Guide entries to check opening times - they are hot linked in the article above):
Fourpure Brewing Co, 22 Bermondsey Trading Estate, Rotherhithe New Road, London SE16 3LL.
Eebria Tap Room, 15 Almond Road, London SE16 3LR.
Partizan Brewing, 8 Almond Road, London SE16 3LR.
Kernel Brewery (bottle shop only - no tap room), Arch 11, Dockley Road Industrial Estate, London SE16 3SF.
Brew by Numbers: Arch 79, Enid St, SE16 3RA.
U Brew: Arches 29-30, 24 Old Jamaica Road, SE16 4AW.
Bottle Shop: 128 Druid Street, SE1 2HH.
Anspach & Hobday: 118 Druid Street, SE1 2HH.
Southwark Brewing Co: 46 Druid Street, SE1 2EZ.
An original version of this article was published by Chelmsford and Mid-Essex CAMRA's 'Thirsty Times' - Spring 2015