House of Cans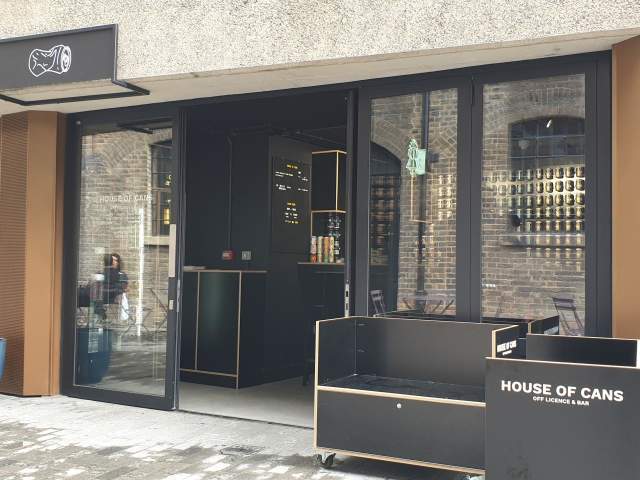 116 Lower Stable Street
London
N1C 4DR
(Kings Cross)

info@houseofcans.co.uk

@HouseOfCans
Closed!
Open from 12 noon daily
Bottles/Cans: c.70

Nearest Station: Kings Cross; St Pancras
Nearest tube: King's Cross
A place selling cans of beer.
Jezza says
This is a tiny kiosk in the new development behind Kings X/St Pancras, which only sells beer in cans. There are a lot of good choices in the range of around 70 beers, though it is quite difficult to see what's available. All the cans are available for take away or drinking in, for which about half a dozen seats are provided. However, they don't provide any glassware – not even plastic cups. After mentioning this in their original guide entry, a Twitter storm ensued, during which the House of Cans Twitter account assertively defended their position, basically saying their 'concept' is that one must drink directly from the can. This produced a lot of negative reaction, with many potential customers saying they'd avoid this place – both due to the lack of glassware, and because they didn't like their attitude. It left me wondering why a new business might risk alienating potential customers in this way, and had me questioning if the owners are indeed serious about beer, despite the good beers on offer. After careful consideration I've decided to leave them in the Guide for now, but I hope the approach to date on Twitter doesn't translate into poor service at the kiosk. For what it's worth, the service we received when visiting was excellent – with the exception of the lack of glassware. My own personal view on this is that something into which one can decant the beer is essential, so this is a major downside for me. Others may disagree, and that's fine – if you enjoy drinking beer directly from a can then you may well love this place. Why not visit for yourself and see what you think? Finally, we understand that their intended specialism is unique collaboration beers with mainly local breweries, but this is on a small scale for the moment. NB: card only, no cash.
Back to the pub search.
---
---
---
Tweets by HouseOfCans