The Hop Locker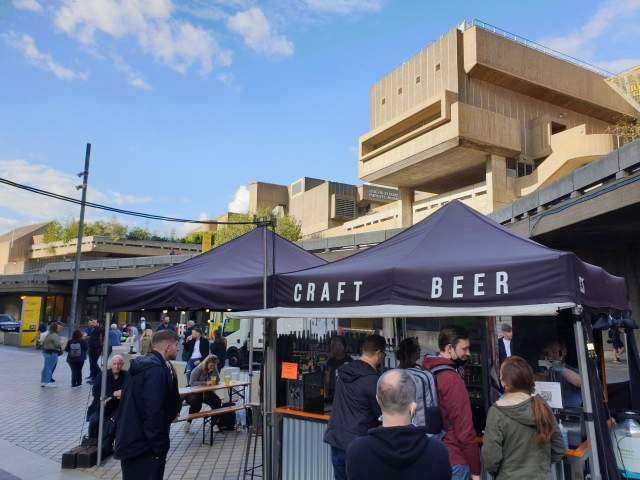 SBC Market, Belvedere Rd
London
SE1 8XX
(Waterloo and South Bank)

Joel@thehoplocker.co.uk

@thehoplocker
Open Fri 12- 9; Sat 11- 9; Sun & bank hols 12- 6. Bar under the Bridge: see below.
Keg Taps: 9
Bottles/Cans: c.60

Nearest Station: Waterloo; Waterloo East
Nearest tube: Waterloo
Fantastic bottle shop bar on the South Bank.
Jezza says
The Hop Locker now has two locations for much of the year. Firstly, the original location in a thriving market behind the Royal Festival Hall. The beer range here is wall to wall quality with no compromises at all on the list of 9 draft beers & up to 60 bottles/cans. Secondly, each summer and winter the second Hop Locker 'Bar Under the Bridge' opens (NB: not in 2020), usually directly under the Hungerford Bridge right by the river. The exact location varies a little from season to season but normally features an additional 12 draft beers on a superb list. The summer bar opens from late April to end September, and the winter bar from mid November to end December, but check the HL twitter feed for details. Grab a bite to eat from one of the many excellent food stalls in the South Bank Centre market, or from one of the neighbouring stalls on the riverside, and enjoy some time hanging out on the South Bank with some great beer. Opening times given above are for the original bar - note that in winter they often close at 8pm Fri/Sat. The summer/winter bar is normally open from 12 noon 7 days a week.
Back to the pub search.
---
---
Tweets by thehoplocker