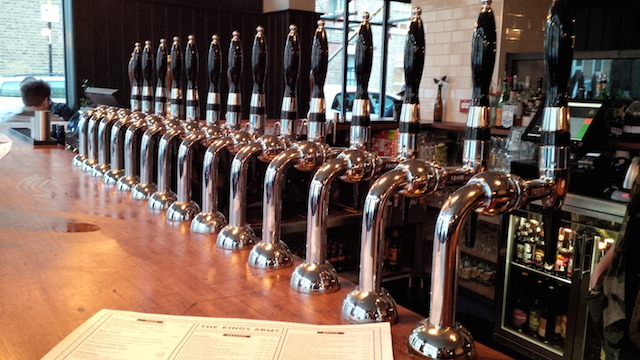 NEW!
Our app is now availale in the Apple App Store and the Google Play Store! You can see all our apps here
19 July 2021 update: all legal Covid-related restrictions have now been removed by the Government, so all pubs, bars and tap rooms etc. can - in theory - now operate as normal. However, many are still keeping various restrictions such as reduced capacity, social distancing, mask wearing, table service, etc., so please check with each venue to see what their rules are. In addition, many places are still operating reduced beer ranges and/or shortened hours, so please check before you travel. We are in the process of updating Guide entries but they are still subject to significant change over coming weeks and months.
You can continue to support your local London brewery by buying directly from them. Please check out our fully updated list, here.
To find places selling draft beer, check out this excellent resource from our friends at London Pop Ups.
Welcome to our London Beer Guide. It's a curated site, which means these are the London pubs, bars and brewery taps that a couple of beer geeks happen to like and are happy to recommend. Jezza and Steve live in London and are the main researchers and authors of the Guide, while Fred lives in Los Angeles and does the technical stuff, though he is also visits London from time to time. You can follow Jezza on Twitter @bonsvoeux1, Steve is @musinganorak and Fred is @fredwaltman.
Who is this site for?
We've designed the site with the beer tourist in mind, but it is also useful for locals who want to find the best beer and best pubs. Whether you are in London on a dedicated beer trip, or you are in town for other reasons (business, family trip, etc.) and just want to try some good beer, this Guide will help you find the best places.
Find a Pub
You can browse our database of pubs by geographical area, postcode or even tube line.
Articles
You can find our Articles page here or see below for individual articles.
News
You can keep up to date with new Guide entries and new breweries, plus deletions from the Guide, in our News section.
Other Beer Guides
In the footer below you'll find links to our other beers guides. Be sure and check them out. And you can find links to all our Beer Guide apps at BeerGuideApps.com
Twitter
We're big fans of twitter and you can follow us at @BeerGuideLondon.